Fishing sea trout
The shoreline along Österlen is one of the best spots in the world to fish sea trout. The fish typically weighs 2-5kg. The pier in Löderup Strandbad is well-known for its great location – perfect for fishing. Similarly, the pier in Kåseberga is perfect for fishing – and located only 2 km away. Other good location include Gislövs hammar and Skillinge hamn.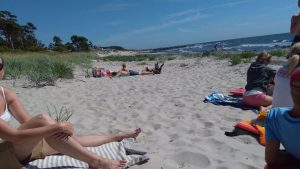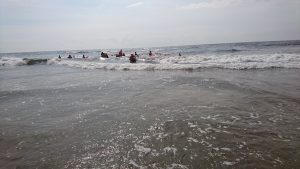 If you stay at Löderups Äng, you can wake up early to go fishing. The Löderup Strandbad pier is located 1300 m from the property. After a day of fishing, you can go back to Löderups Äng, gather by the fireplace, play soccer, watch a movie or play board games. 
 Se våra foton för mer info Läs mer på ÖSKG:s hemsida. Du kan också Läs mer om fiske på Österlen här.
If you want to rent the property for fishing purposes, we have a great deal; you can rent the entire property for 25 people for SEK 4000 / night during the fishing peak season (until March 31). Alternatively, you could rent the main house only for SEK 2500 / night. If you are no more than 6 people, you can rent the east wing for SEK 1500 / night. Until March 31, it is okay to rent the houses for only one night. Cost for final cleaning will be added regardless of how long you stay. CALL 0411-261558 to book or book online: bokningskalender.