The main building is the biggest house and the centre of Löderups Äng. The ground floor consists mainly of social areas, but also a bedroom with two beds that would suit someone with difficulty walking in stairs, etc. The second floor mainly consists of bedrooms. In this house you will find a big kitchen with a dining area. It has plates, cutlery, chairs and a table that fits up to 25 people. There is a total of ten spring beds and two spare beds; in other words, 12 people can sleep in the main house. It also has two bathrooms with one shower each. The main building also has a dish- and washing facilities, as well as a big fridge and freezer.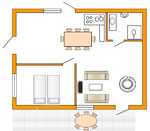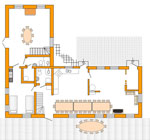 The east wing is the newly renovated house at the farm. The house has two furnished floors and the second floor consists of berths. This house has six spring beds and possibility to fit two spare beds. Dining area, kitchen, china ware, etc. suited for a maximum of eight people. The wing has one toilet and shower. The wing's own patio has garden furniture for eight people.
The small house is the western house, and is also the smallest and simplest. It has two spring beds and a bunk bed. It has a small kitchenette, toilet and shower. The dining area has china ware, cutlery, etc. The West Wing is suited for a maximum of 5 people; 4 optimally. The garden furniture at the own patio is suited for five people.