Make sure to buy locally produced vegetables, fruit and meat. Such food can be found in the gocery stores or any of the local farm markets; a major one being located in Kåseberga. Locally produced food items can also be bought from nearby farms.
Local specialties include carrots and other vegetables, potatoes and fish.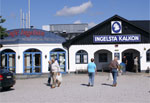 In Kåseberga, ca 3 km away, there is several restaurants, such as "Kåseberga Bykrog", "Johannas Skafferi" and "Ahls Fiskrökeri".